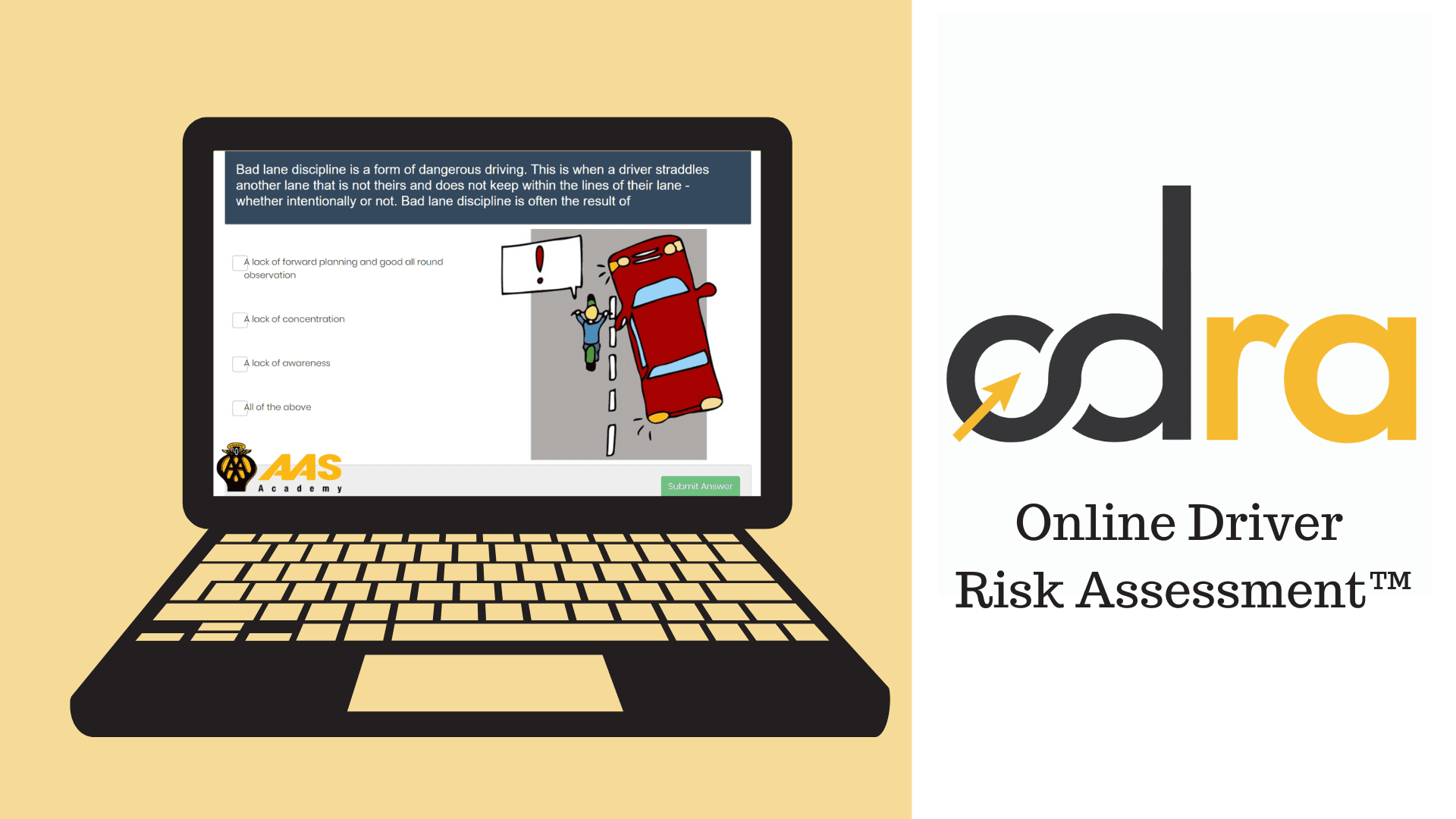 Online driver risk assessments, also known as driver profiling, are by far the most efficient and effective method of identifying driver risk and meeting vital health and safety requirements.
AAS Academy's Online Driver Risk Assessment (ODRA™) is developed in consultation with road safety officers, approved driving instructions and, as a result, provides accurate risk ratings. Our online assessment and its training system is suitable for all drivers in any organisation or fleet.
ODRA™ provides a great insight into your staff's driving profiles, and is a fantastic step towards creating safer drivers and safer roads.
Features:
Suitable for all drivers (Class 3, 4 or 5)
Generates a driver risk profile based on the results
Helps organisations and fleet managers to identify at risk drivers and the areas of improvement
Recommends appropriate training modules to address areas of improvement
Benefits of the Online Driver Risk Assessment:
Cost effective – at only a fraction of the price of an on-road or in-class course
Convenient – assessment can be done anywhere and at any time as long as there is internet connection
Easy to implement – minimal disruption to an employee's working schedule and productivity
Easy to understand as it uses images and multiple-choice questions
ODRA™ is a "skills and knowledge" system which adopts the tried and trusted approach of assessing drivers through an online process. Apart from identifying if a driver's risk level is high, medium or low, the assessment also provides answers and explanations after each question. An online driver training module may be recommended to address areas of concern highlighted during the assessment.
Features

Consists of 4 Sections, with 12 questions in each section
Attitude
Knowledge
Concentration/Observation
Hazard Perception
Duration
20-25 Mins
Cost
Call to enquire
How it works?
Drivers will receive an email containing instructions and login details
Based on the driver's answers, an individual profile will be compiled
Driver is given a High, Medium or Low driver risk rating depending on its assessment result.
Who Should use the Online Driver Risk Assessment
Any organisation operating a fleet of vehicles
Any organisation that employs people who drive for work purposes
Fleet managers
HR managers
Training managers
Logistics managers
It is extremely useful as I found myself lacking in knowledge risk such as medical conditions and meaning behind certain road signs and the correct behaviour to adopt when passing roundabouts (i.e.). Strongly recommend experienced road users to sit for this test for a reality check!
Lau Wei Chong
Excellent concept and test to assess experienced drivers. Often we have many years of driving experience under our belt and can take some basic concepts for granted. This is definitely a useful course I will strongly recommend for all seasoned drivers to take. I enjoyed the feedback on the right responses which was leveled at an appropriate difficulty for all. Thanks!
Christopher Lian Sheng Yang
This is a good way to provide refresher training on road safety. Many of us forget the small things when driving.
Murtaza Oliya
Interesting. This should be an annual exercises to all motorists.
Ann Tan Huai Tin