The Forerunner 55 will help you kickstart your running routine. Designed for newbie runners, the Forerunner 55 is lightweight and has a sleek look. With comprehensive running modes, tailored daily training tips and enhanced health monitoring, it will help you improve your performance both on and off the track.
| | | | | | |
| --- | --- | --- | --- | --- | --- |
| | | | | | |
| MULTIPLE INDOOR AND OUTDOOR RUNNING MODES | DAILY WORKOUT SUGGESTIONS | GARMIN COACH | 14 DAY POWERFUL BATTERY LIFE | DAILY HEALTH MONITORING | SMART NOTIFICATIONS |
GET A CLEAR PICTURE OF YOUR RUNNING PERFORMANCE
The Forerunner 55's clear screen displays data like distance traveled, cadence and pace, and can be customized to show all the data you need at a glance. Support for multi-GNSS lets you precisely record your run routes. Use the Garmin Connect and Garmin Sports platforms to share your runs, along with photos and more, to maintain your motivation!
RUN FREE: WE'VE GOT YOUR BACK
By pairing with a compatible mobile phone over Bluetooth, you can receive messages while you run1. Using the LiveTrack function, you can share your real-time position and run route with friends and family, while incident alerts can notify your emergency contacts2. So you can be rest assured that if you run into any trouble, help will be there right away.1Must be paired with a compatible mobile phone2To enable LiveTrack / Indicent Detection / Emergency contact alerts, first enter your contacts via Garmin Connect. Please refer to 'Requirements and Restrictions on Safety and Tracking Functions.'
TRACK RUNNING MODE: RECORD EACH AND EVERY LAP
The track running function ensures that your lap trajectory and distance are tracked more accurately, so you can keep a true record of each and every lap!
VIRTUAL RUN FUNCTION: RACE AROUND THE WORLD FROM HOME
Support for the Zwift virtual training app lets you access virtual running tracks from around the world and display your heart rate, cadence and pace data on the app interface to make indoor runs even more fun.*Need to download the Zwift virtual training app.
THE NEXT STRIDE FOR RUNNERS: PACEPRO SPEED STRATEGY
Before you hit the pavement, plan your route in advance with Garmin Connect*. Use PacePro to analyze elevation changes and set a pace strategy for each stage, then sync with your stopwatch and start your run.*Requires pairing with a compatible mobile phone.
| | | |
| --- | --- | --- |
| DAILY WORKOUT SUGGESTIONS | SUGGESTED RECOVERY TIME | RACE PREDICTOR |
| Practical training suggestions based on your physical condition, recovery time and recent running performance make it easy to set a goal for your next run. | A good rest can mean a better run. The Forerunner 55 uses your activity and health data to suggest more precise recovery times between each run. | Assesses your physical condition and training record to help you meet your race goals, including predicting future race times so you can see your progress. |
| | | |
PREPARE FOR THE NEXT ROUND
Is your goal for next month to complete a 5km or a half-marathon? Want to make progress but not sure where to start? With Garmin Coach's personalized running training, you can choose professional coaches and set race goals, then receive a tailored training program and step-by-step guidance on how to prepare for your next race meet. It can be synced with your watch and adjusted according to how you perform at each stage of the plan.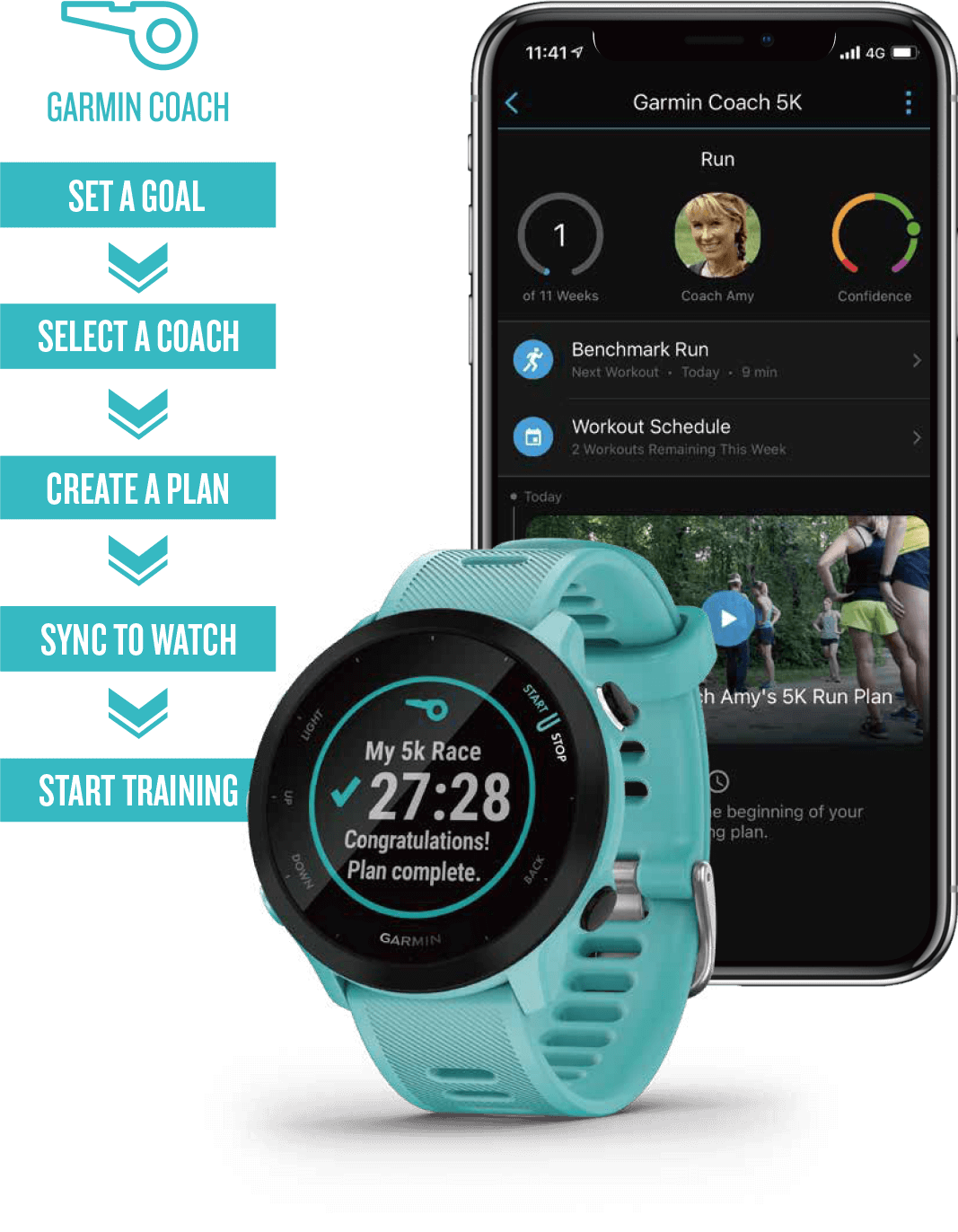 DAILY HEALTH MONITORING IS VISIBLE
Record daily data including heart rate, steps, walking distance, calories burned and activity reminders.
| | | | | |
| --- | --- | --- | --- | --- |
| | | | | |
| HEART RATE | STRESS INDEX | SLEEP QUALITY | RESPIRATION RATE | BODY BATTERY |