The sleek design of the latest Marbella KR6S makes them virtually undetectable from the outside. A rear-mounted satellite rear camera would not only be more noticeable, but would also elevate the surrounding surveillance for our drivers since the front unit of Marbella KR6S cover a 140° wide angle recording while capturing a 140° wide stunning video footage at rear 24/7.
Marbella KR6S is designed to provide you with an extra level of protection and unlike typical front and rear camera in the market, the Marbella KR6S is almost 50% smaller than any other dashcam and it is invisible yet delivering an astonishing video quality throughout day and night by equipping the latest Sony Exmor R® iMAX 323 CMOS imaging sensor as compare to Marbella KR5 and KR6S also marked our 3rd dual channel dashcam from Korea.
Marbella KR6S is able to withstand the harsh automotive environment. It operates with thermal protection system and the Marbella KR6 will automatically stop operation when temperature reach above 70°C/158°F or an environment below -20°C/-68°F.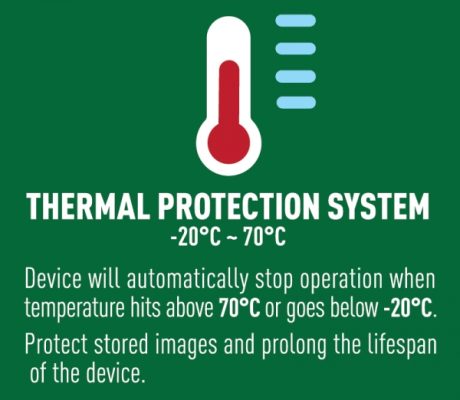 Marbella KR6S is our very first vehicle recorder without a LCD panel but users has a full access to the 2 channel camera by downloading the App either from Google Playstore or Apple iOS store to preview, download, playback and share your video footages on social media platform. You can also customised your preferred configurations through our own APP. The Marbella KR6S will be broadcasting a steady WIFI signal even you are in a remote area so our users will not required any WIFI signals even on the road.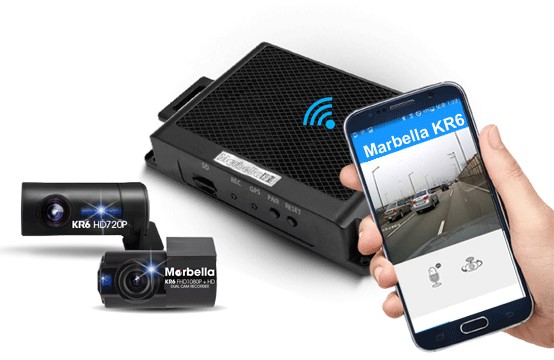 Marbella KR6S is connected with a tiny-sized controller unit which is also virtually undetectable from the outside This will prevent the Marbella KR6S over-exposed to the extreme weather condition especially after a long parking hours under a heating hot sun in Kuala Lumpur or capturing an extreme scenic journey when you take them aboard to Alaska.
The sturdy controller unit is also created with a mission to prevent direct sunlight on the MicroSD card so the unit could operate in a comfortable environment. Users are no longer required to replace their faulty MicroSD card due to the heat and this will also minimise the possibility of file corruption and data loss. Its self-explanatory set-top box uses a very high quality BMW™ connectors and 3 pin Molex Power Cable interface makes the installation easy and allows users to place the set top box anywhere they preferred in their vehicle. This innovative design coupled with 2 ultra light weight (20 grams only) front and back camera, provides a new revolutionary design in the automotive industry.
Flash memory inherently has a limited number of write/erase cycles and there several reasons to cause voltage levels shift, eventually causing read or write failure and therefore Marbella KR6S is recording high quality video footage in *.TAT format which means it reduces the damages caused during long hour recording. Format FREE is the latest and the most effective memory management without having a trouble to format your MicroSD card by changing from conventional time division method (fixed file size – *.FAT Format) to Space division method (efficient using the SD card capacity) of memory, avoid memory fragmentation in advance that extend the life of the memory card.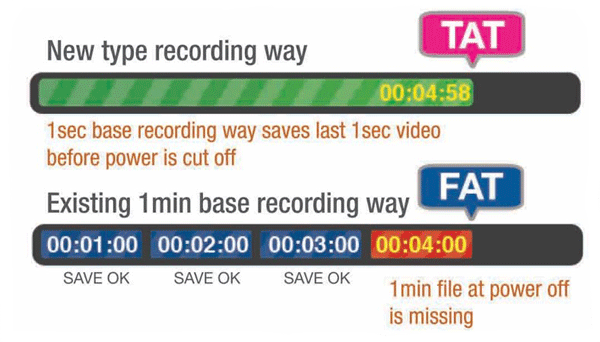 Marbella KR6S supports 24 hours recording and park monitoring sensor has been embedded in the BOTH front and back camera. Marbella KR6S do not required to install any voltage cut off device since it has a built-in battery discharge voltage monitoring function. Usually the consuming current of Dash Cam is 10 ~ 50mA and Marbella KR6S has one of the lowest consuming current consumption of 400mAh – Front FHD + Back FHD (1/10 of a similar products), it realize battery discharge free.
There is 3 different mode of recording and Marbella KR6S will automatically sort out the file and store them into 3 folder (Drive/Event/Parking) accordingly.
Marbella KR6S has also its own voltage cut-off function without installing any power safety device to prevent battery discharge overnight and it provides 3-wire power cable as part of the standard accessories to ease your installation.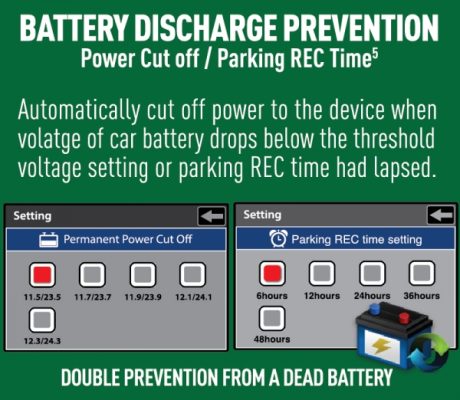 The optional GPS logger which captures your GPS data such as location and speed will provide users a more accurate evidence on your driving. The XYZ axes on the dedicated PC viewer and more accurate understanding of the situation is available such as checking driving information with the support of Goggle map and speed information when the GPS dongle is connected to the set top box on your Marbella KR6S.