The patented RASLOK is designed in Singapore based on the utmost security and quality standard. It is by far the most reliable and secure, and best-selling car steering wheel lock in Asia market.
YOUR VEHICLE IS AT RISK!
Thousands of cars are stolen every day from people who didn't think it would happen to them. According to 
FBI 2010 report
, in the United States alone, a motor vehicle is stolen every 42.8 seconds, that works out 2,019 motor vehicles stolen daily. In Malaysia, 
an average of 150 cars are stolen daily
. The financial burden and personal hassle of having a car stolen can be tremendous.
WHAT YOU HAVE TO KNOW?
Today's professional thieves are technically proficient to bypass factory electronic anti-theft system and steal your vehicle in a matter of seconds.  They disable your alarm and even unlock the doors typically by using a scanner box or code grabber. All of the wiring under the dashboard is exposed and vulnerable.
The fact is simple, ELECTRONIC anti-theft system is NOT enough to stop professional thieves. Therefore you need a MECHANICAL lock to safe guard your vehicle.
HOW SAFE IS YOUR STEERING WHEEL LOCK?
Steering wheel lock is by far the most popular and least expensive anti-theft option. Unfortunately most of the steering wheel locks in the market are either susceptible to lock picking or can be removed simply by cutting the steering wheel.
The revolutionary patented RASLOK is virtually impossible to defeat!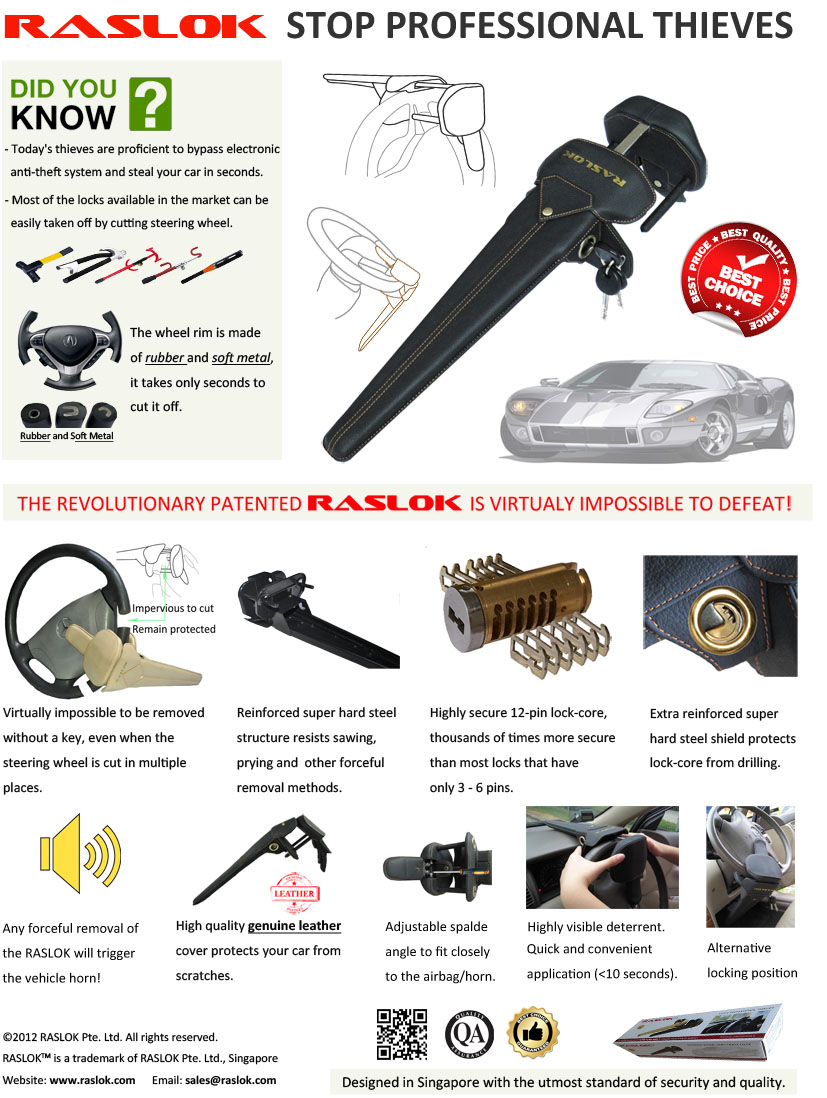 RASLOK – A Reliable And Secure LOcK that stops professional thieves.