The Rocketbook Everlast Mini is an endlessly reusable, cloud connected, pen and paper notebook… that fits in your pocket.

The Everlast Mini is a pocket sized notebook built for the digital age. Although it feels like a traditional notebook, the Everlast Mini is endlessly reusable and connects to all of your favorite cloud services.
Like the original Everlast, when you write using any pen from the Pilot Frixion line, your writing bonds to the Everlast Mini pages like regular paper. But add a drop of water… and the entire notebook erases like magic.
The Everlast Mini also works with the Rocketbook App in a new and unique way. So before your notes go off the Mini, they go online, perfectly organized.
1 X PEN-PACK | 2 X PEN-PACK | 3 X PEN-PACK | 4 X PEN-PACK | 5 X PEN-PACK | 10 X PEN-PACK

1 X PEN-PACK | 2 X PEN-PACK | 3 X PEN-PACK | 4 X PEN-PACK | 5 X PEN-PACK | 10 X PEN-PACK

The Everlast Mini is not a whiteboard book.

You can use any pen from the Pilot Frixion line. Frixion gel pens come in all different kinds and colors and are available for purchase online and in stores.
When we launched the original Everlast, we worked closely with paper industry experts to find the optimal synthetic polyester blend to create pages that could be wiped clean of Frixion ink, but also felt perfectly natural to write on. Our Everlast customer love it because writing feels smooth and natural. We have designed the Mini with this same synthetic.
Everlast Mini pages do not have a weird high gloss. And, the writing does not just wipe away.
Here is where things get crazy. When you combine Frixion pens with Everlast mini pages, a dry paper towel doesn't do a thing. But a moist paper towel removes every bit of ink. So you can reuse your notebook over, and over, and over, and over, and over again.
SIZE MATTERS
We crafted the Everlast Mini to be the same height as Frixion Pens so they can travel together in the same spaces and go to the same places. And what better way to keep your Frixion pen with your Mini than a Pen Station stick-on pen holder? That's why we're including one FREE Pen Station with every Everlast Mini for this campaign!
MACHINE VISION
The Rocketbook System is the combination of a special notebook and a free mobile app. Write notes and create designs in your notebook with a pen. Then, using patent-pending image capture technology, the Rocketbook app accurately and quickly captures and bundles your notes together… in any orientation!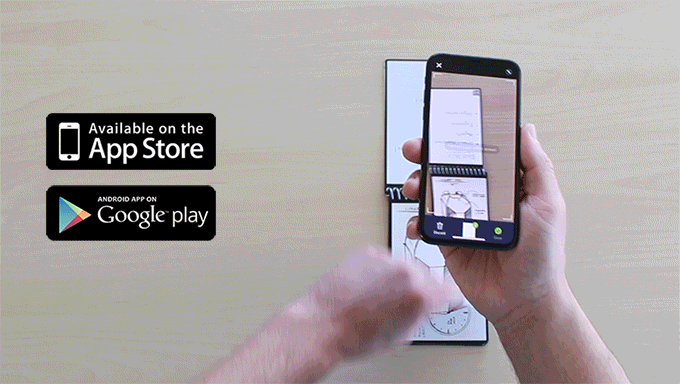 SEVEN SYMBOLS
The Everlast Mini works with the Rocketbook cloud organization system in a new and unique way. Using the Rocketbook app, you assign 7 shortcut "symbols" to a destination of your choice: any folder inside Dropbox, Evernote, Google Docs, your email address, or many other cloud services. After you have completed scanning pages, simply select the destination symbol(s) you would like to send your notes. The Rocketbook app instantly files your notes in the right place.
IMAGE PROCESSING
In an instant, the Rocketbook app crops and enhances each page so your digital notes are more crisp and vibrant than the real thing.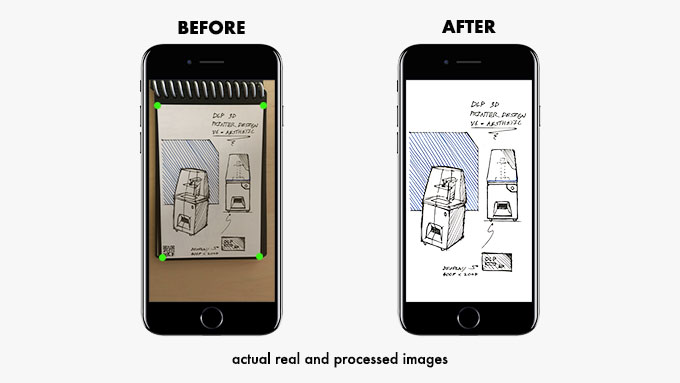 BIG THINGS ON SMALL PAGES
The pages all feature a unique dot grid pattern that is perfect for both text notes, sketches and diagrams.

INTELLIGENT PAGES
Each page of your Rocketbook Everlast contains a special QR code which contains metadata about the Rocketbook Mini page. This triggers the special app functionality as well as enables complex image dewarping from any angle.
Each page also has a narrow dark border surrounding it. The border allows the Rocketbook app to find your page quickly in any environment or background, like a messy desk.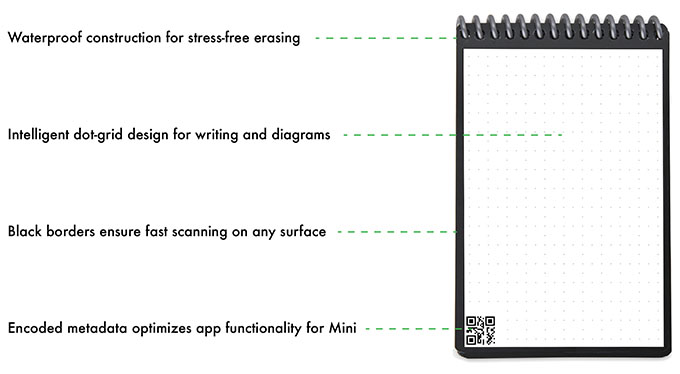 NO NOTEBOOK? NO PROBLEM.
Forgot your book or just want to take a test drive? We offer free PDF downloads of full size Rocketbook pages with all sorts of page patterns. Give it a try today!
SMUDGE FREE ZONE
Frixion pen ink completely dries and bonds to the page in about 15 seconds. After that, your writing doesn't budge without moisture. You can flip the page before that, but there may be some slight transfer of the ink.
Frixion markers are great for adding a dash of color but they can transfer a small amount of ink to the opposite page.
MAXIMIZE EVERLASTICITY
ONLY USE PILOT FRIXION PENS. Although there are other inks that work, the entire Frixion pen line is the most accessible and they erase great. Plus, they are just solid pens.
If you leave the ink on a page for a really long time (like months), it can eventually leave a ghost behind. It's kind of like an old whiteboard with very faint marker images. So just erase once in a while to keep pages looking pristine.